Digital fabric thickness tester is QINSUN's self-developed and manufactured testing equipment, mainly used for thickness determination of various types of textiles and textile products, and also for thickness determination of other uniform thin materials.
Conform to the standard.
GB/T 3820-1997 "thickness determination of textiles and textile products" and other standards.
Advantageous features.
The company has been engaged in testing instruments for more than ten years and has a strong after-sales service team;
Able to deal with all kinds of problems in a timely and quick manner, to relieve customers of their worries;
Spare parts are available, to solve the trouble of ordering spare parts with long delivery time;
Provide outsourced maintenance services;
Long-term supply of various common testing instruments;
Follow the update of industry standards, timely provision of test instruments in line with the new standards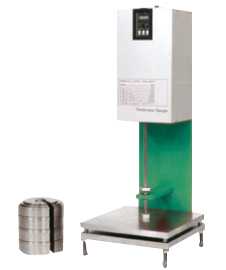 Main parameters.
Determination of thickness: 0.1 ~ 10mm;
Small indexing value: 0.01mm;
Presser foot area: 100mm2, 2000mm2, 2500mm2, 10000mm2;
Pressing weight: 25cN, 50cN, 100cN, 200cN;
Pressing weight time: 10s, 30s;
Presser foot drop speed: 1.72mm/s.
Calibration items.
1, the accuracy of the percentage table, using the block gauge calibration, to ensure that the accuracy of the percentage table within 0.01mm.
2、The clearance of the guiding part of the measuring rod shaft, the total clearance is required to be less than 0.05mm (available for checking with a stopper).
3、Calibrate the weight of the pressurized weight block and presser foot to ensure that the error is less than ±1g per piece.
4, check the balance position and sensitivity of the presser foot, can be added to the presser foot 10cn weight that can make the presser foot down to the benchmark plate, but if not add 10cn weight, then lift the presser foot and then put, the presser foot can not be lowered to the benchmark plate but still can have obvious downward movement
Prev: Collection | Textiles & Clothing Inspection & Testing Basics
Next: ISO 105-G03-1993 ozone aging test chamber manufacturer