The wear-resistant machine can test the wear caused by collision or friction between metals. Use abrasion test to evaluate the degree of wear resistance of its products, such as measuring its mass loss, thickness loss and light transmittance.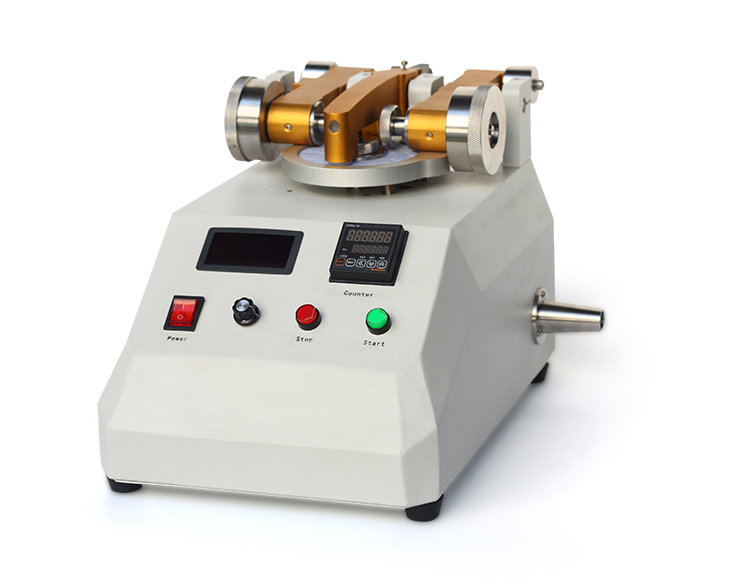 Generally, the types of wear-resistant machines include single-wheel wear-resistant machines, double-wheel wear-resistant machines, linear wear-resistant machines, and five-finger scratch wear-resistant machines.
  Double/single grinding wheel wear-resistant machine:
  Imitate the real conditions of use or meet the test conditions specified by the standard
  -You can choose a variety of different wear media and accessories for different tests
  -The test can be repeated on the same point of a material, the thickest material about 0.5" is damaged or worn away
  -Two speeds (60, 72 revolutions per minute), 0-50000 revolutions (can be quickly set to 100, 500, 1000 or 2500 revolutions) and 3 types of load can be set.
  Five-finger scratching and wear-resistant machine:
   is designed based on the standard technical requirements of the automotive industry
   The test sample is fixed on the testing platform driven by compressed air. The scraping fingers of five independent shafts can be replaced with different weights and optional scraping fingers, which constantly and vertically act on the surface of the test sample. The scraping finger is installed on a hard bench, and the operator can fix the designated scraping finger in a balanced position through the bracket, so that samples with irregular width can also be tested.
  The accessories for wear-resistant machine applications are as follows:
   Regulator operation control
  Five shafts with weights for finger scraping
   Nine weight settings (2N, 3N, 4.5N, 5N, 6N, 7N, 10N, 15N, 20n)
   Interchangeable scratching and scratching tools
  Sturdy spring sample fixture
   Detachable test bench protection board
For more information, please visit us at https://www.qinsun-lab.com/index.html
Or send email to us: info@qinsun-lab.com
Prev: Research on the abrasion resistance of TABER abrasion tester on different samples
Next: What is the relationship between material hardness and wear resistance