The random pilling tester can detect the pilling performance of the fabric. Under the rotating action of the stainless steel blade in the independent aluminum alloy test chamber, the fabric to be tested and the cork lining wall continue and randomly rub. The test time is controlled by a timer and an audio alarm. The test chamber can also be injected with compressed air to enhance turnover and friction. effect. There are 2 or 4 test rooms. The use of laboratory standard compressed air is required.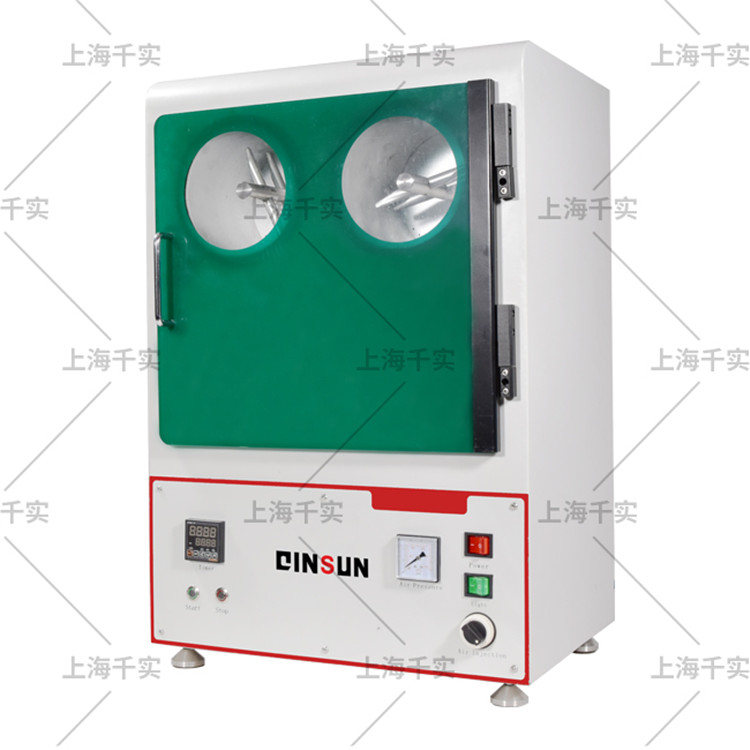 The main parameters:
   1. Sample test room: 2 or 4;
   2. Each test chamber is equipped with rotating stainless steel blades;
  3. Equipped with a test room that requires good airtightness;
  4. Equipped with digital electronic counter;
   5. Equipped with an alarm device for the end of the experiment;
   6. Equipped with pressure gauge and timer;
  7. Roller specification: 146×152mm;
   8. Cork lining specification: 452×146×1.5mm(L×W×H);
  9. Stirring rod specification: L=121mm;
  10. Speed: 1200r/min;
  11. Compressed air: 0.014-0.021Mpa;
   12. Power supply: AC220V50Hz80W;
   13. Appearance: 480×400×680mm;
  14. Weight: 40kg.
   Test principle:
   Put the 105mm×105mm samples into the test box. Under the rotation of the impeller, the cork lining of the storage box will continue to rub at random. The timer is set to the specified time. When the set time is reached, it will sound tightly, prompting the end of the test. During the test, compressed air will be injected into the test chamber to enhance the turnover, and the air pressure can be adjusted.
Standards compliant:
  GB/T4802.4, ISO12945.3, ASTMD3512, ASTMD1375
  Instrument features:
   1. The paint of the whole machine shell adopts high-quality plastic spraying treatment.
  2. The instrument adopts LCD Chinese display, the interface is simple and easy to understand, easy to operate, and equipped with metal buttons.
  3. With door opening detection, the motor automatically stops rotating when the door opens, making the instrument safer.
  4. One-key start, press the start key, the air source and the motor work at the same time; the experiment will stop automatically when the experiment is completed, and the buzzer will remind you.
   5. The rotating components adopt round belts and wheels, the instrument runs smoothly and has low noise.
Prev: Martindale Abrasion Tester-How to Use