Product Description: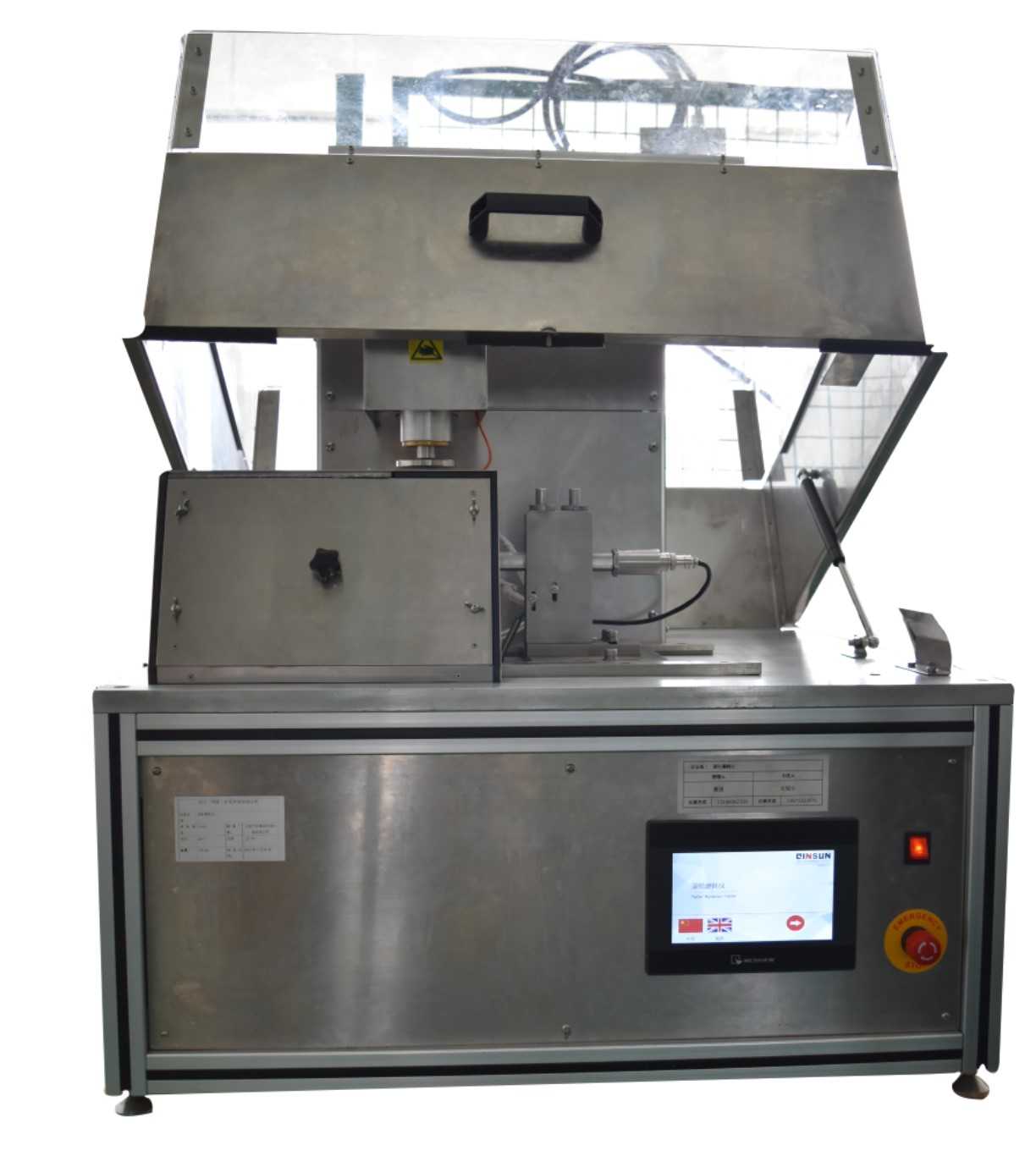 round The Track Method Pilling Tester uses a linear guide rail as a sliding gauge to test the pilling condition of wool fabrics, synthetic pure cotton, blended, knitted and woven fabrics to identify product quality and effects of the process.
Principle of the test:
Perform with a nylon brush and an abrasive or disposable abrasive Compare after rubbing and Pilling, then under the specified lighting conditions, the pilling pattern with the standard photo to assess the degree of pilling.
Main parameters:
1. The contact space between the grinding head and grinding table: ≤ 0.2 mm;
2. Parallelism between grinding head and grinding table: ≤0.3 mm;
3. Grinding head and grinding table Thegrinding table relative movement path: 40±1mm;
4. The surface of the nylon brush is smooth and the height difference is less than 0.5 mm;
5. Grinding table reciprocating speed: 60±1 stroke/min; p>
6. Grinding head weight: 490 cN±1%;
7. Big hammer weight: 290 cN±1% ;
8. Weight of the small heavy hammer: 100cN±1%;
9. Selection of the time: 1——9999.
Setting up the instrument:
1. Place it on a sturdy workbench and put it down Put it down Put a layer of rubber mat on the work surface to prevent the instrument from slipping while working.
2. Adjust the foot nuts so that they are horizontal.
3. Check if the power supply voltage meets the requirement of 220V±10%, connect the ground wire and insert it into the socket.
Test ofplush:
1. RemoveTake the sample and tighten it firmly in the chuck. Set back friction times according to GB/T4802.1-97.
2. Choose the sample weight according to the regulations, if you need to increase the weight, the required weight can be clamped on the chuck shaft.
3. Place the specimen holder so that the specimen is in contact with the plane of the brush.
4. Press the \"RUN\" button, the instrument can run according to the set number, and the instrument will stop automatically when the set number is reached.
Pilling test:
1. Set the counters according to GB4802.1-97 .
2. Take the sample and fix it correctly and firmly in the sample holder.
3. Place the specimen holder so that the specimen touches the grinding plane.
4. Press the\"RUN\" button to start the instrumentt performs pilling work.
5. After the machine stops automatically, rotate the sample holder and remove the sample after grinding for evaluation.
Prev: ZD-100A portable humidifier
Next: Detailed analysis of the problems encountered in the circular path pilling test method